| | |
| --- | --- |
| General: | Alpine via ferrata following a natural ledge in a rock face without additional ladder rung. |
| Securing equipment: | Continuously secured with 20 mm flag anchors and 16 mm steel cable |
| Base village: | Patergassen 1,015 m |
| Starting point: | Falkertsee 1,872 m |
| Approach: | Along a well marked path to the signpost in the Sonntagstal valley then head northwards to the Falkertwänden Platten for approx. 30 min. |
"Falkensteig"
From the access along the gully to the beginning of the dihedral A/B. Short traverse up to the end of the dihedral C/D and along a grassed ledge towards the pine A/B. Past the pine on a steep grassed ledge and a short rock step beneath an overhang to the rock register A/B. Up to a ledge A/B and continue up to a niche B/C. To the left traverse an exposed crossing, over ledges and steps to the beginning of a short gully-like ramp to the right B/C. Over a few rock steps to the left into the gorge-sided wall. Past rock slabs and ledges to the rope climb crossing the gorge and towards the end. Continue for 10 minutes along the walking path to the summit. Duration: approx. 2 hrs, climbing length approx. 300 m. Descent: along the marked path back to Lake Falkertsee – approx. 60 min.
Use of the via ferrata at own risk!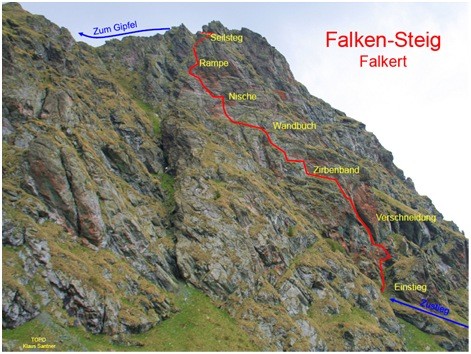 "Murmelsteig"
The East Tyrolean via ferrata builder and professional mountaineer Peter Ortner has achieved something great again with this via ferrata. In addition to the difficult "Falkensteig" there is now a lighter trail. The new via ferrata leads from Sonntagstal tonearly 400 meters long, almost up to the brand new summit cross. The approach is also on the well-marked way to Sonntagstal to signpost, then north to the "Falkertwalls" - about 30 min. Entry is directly on the left, next to Falkensteig.

The chosen line is excellent, not stingy withspectacular low views and exposed spots. Nevertheless, the climb can be classified in category B. Some treads were set and sometimes some steps were cut in the rock. Even a 20-meter-long rope bridge requires a lot of overcoming, but makes the heart of mountain enthusiastic via ferrata beat faster.